A lot has happened over the last three months, some are very positive changes. Firstly, I want to say thanks so much everyone who signed, shared and retweeted the petition. I am so happy to say that yourselves and my doctor now mean that I have Entonox at home! My hope for the petition was that the CCG would recognise that Entonox should be prescribed for all palliative care patients in my area – but the medication license I was granted was for individual use, meaning that while I have set a precedent, this is not something that is easily be prescribed by hospice doctors currently, even after this battle. Anyone needing it will have to go through the same process I have just been through, which takes six months plus. I am cooking up a plan trying to change licensing rules across England… so stay tuned. However, on a personal note I just wanted to tell you that Entonox has helped me an awful lot so far, so I am very grateful.
The last few months have been incredible in many ways. I was nominated for Cumbrian Woman of the Year and attended a lovely award ceremony.
I also read my poetry at the Creative Connections conference, which is an event I would love to go to again next year, it was very interesting. Kristyna Baczynski, an incredible artist, drew the below while I was talking. She was archiving the whole thing on the window at the back of the room! You can follow her at @kbaczynski on twitter.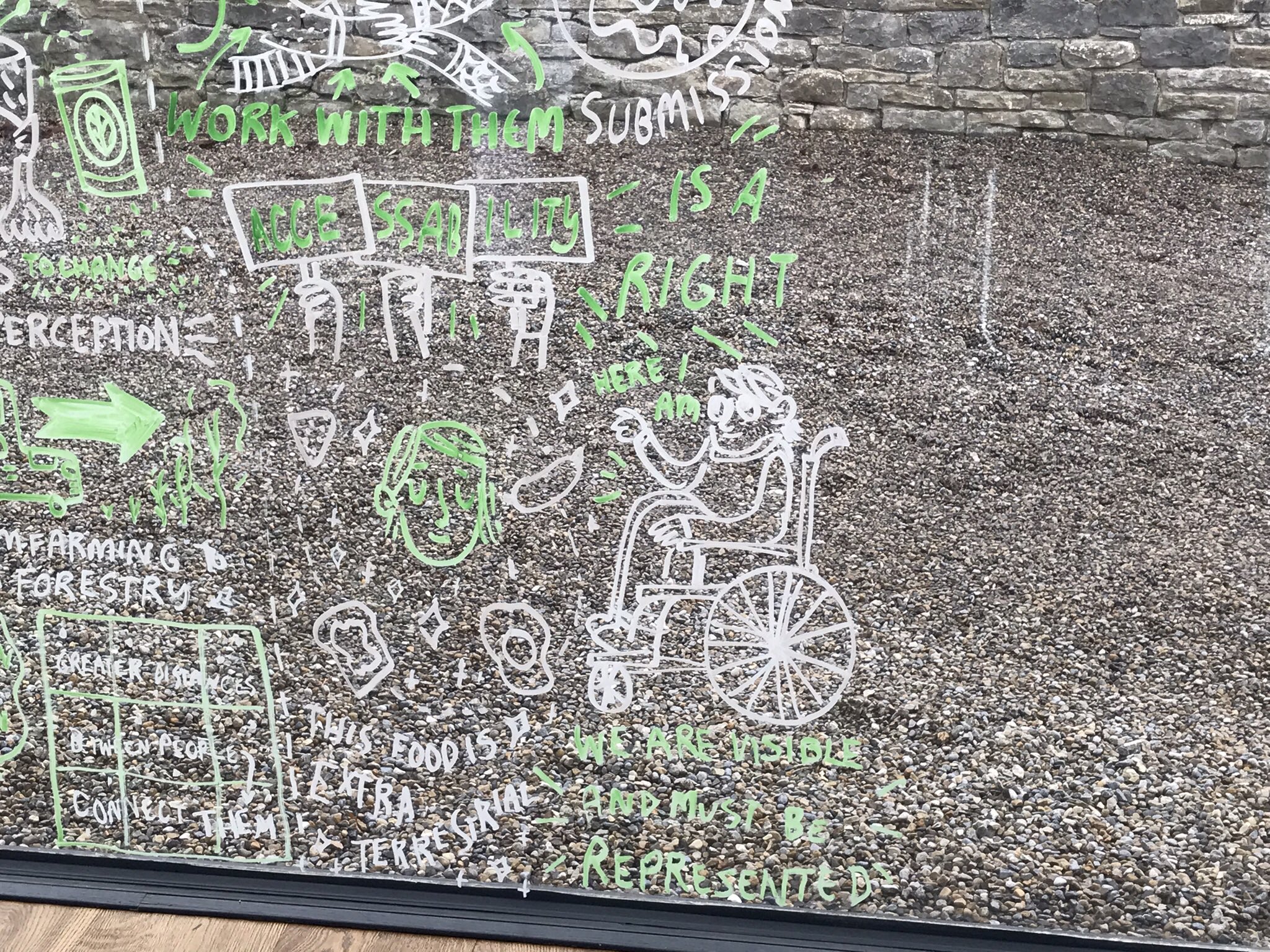 One of my poems has been featured in a magazine called Tangereen, it's a childrens fashion magazine run by Junior Style, linked here.
I have also won the young poets prize in the poem and a pint competition for 2018, with my poem Grandad, about my grandfather who passed away. Linked here .
My poetry Pamphlet Dear Body received this review from Under the Radar Magazine, which I am very happy with. If you'd like a copy of the pamphlet, it is available in the 'shop' tab.
Other good news is that I FINALLY have an operation date! I am due to go in to hospital on the 30th of December, and have my operation on the morning of new years eve. I have to say I am particularly nervous about this one. This operation should be a single overnight for most people – but because of my complex health it is thought that I will be in hospital for a fair bit longer than that. I have had a feeding tube on my face for the last seven/ eight months. I am SO looking forward to having my face back! At the minute I can't moisturise because it means the dressing won't stick down. I am desperate to get my skin back and give it a good cleanse!
The last time I went to this hospital (it isn't my usual one) things went wrong, so I am quite scared (being honest) about going back in there. It would be so lovely if you would send me a card to read while I am in hospital. The address is:
I have been trailing a new set of medications over the last few months to try and raise my blood pressure, but also lower my racing (asleep or awake) heart rate of 140 beats per minute (bpm) or more. I know quite a lot of people may not be interested in this, but it would have been really useful information for me to stumble across so I am hoping it could help someone out. The first one was Midodrine – this raised my blood pressure amazingly in the first week, but after that I began having blood in my stools (too much information, I know) related to when I took this medication. We have talked to my lovely gastroenterologist about this and we all think that because midodrine is a vaso-constrictor (it stops your veins and arteries from having any stretch), the vessels in my bowel are either constricting too much or my bowel can't function with a restricted supply of blood. Then, I moved on to a medication called Ivabradine. This medication was to calm my heart down to a more reasonable 95 bpm. However, it gave me a migraine every single day. I usually have a migraine around once a month – so this was completely debilitating. Finally, my wonderful cardiologist put me on a Beta Blocker called Propranolol. At the minute it is the best medication I have tried. It does lower, instead of raise, my blood pressure, but it calms my tachycardia down, so if I creep around very carefully this is definitely the best one for me. It does have the downside that it makes me fall asleep for three hours after taking it – so I take it early morning and in the evening. Finding the right dosage has been hard because I have spent many more hours unconscious than I would have wanted to.